1. SHOP FOX W1742 15-Inch Planer with Cast Iron In and Out Feed Reviews 2017
The reviews for the SHOP FOX W1742 Planer from Amazon are extremely complementary and received a 5 star rating from 7 reviewers. There were no troubles to report. Some of the operators also spoke very highly of the customer service department at Shop Fox. So from all reports this is an excellent machine. The SHOP FOX W1742 is one of the more expensive power tools, but if you are going to use the machine a lot, then it will be an excellent purchase.
The cast iron infeed and outfeed wings are very good and are probably safer than rollers where your fingers can get caught. This 15-inch planer is a little noisy, but then you should always wear the appropriate hearing protection when operating any machinery. This planer is also fitted with a very good dust collector to help keep the shop clean and to protect you from some of the dangers of breathing in wood dust.
It is always pleasing to be able to review products and to be able to give it a 5 star rating. This is one machine that I would be very comfortable to recommend to anyone looking to buy the best wood planer.
2. Grizzly G1033X 20 inch 5 HP Spiral Cutterhead Planer Review 2017
It is unfortunate that I could only find the one review for this model thickness planer woodworking machine and that only gave a two out of 5 star rating. The main issues were that the bearings in the cutterhead failed and the cost of the carbide inserts makes it a quite expensive job to replace them.
Grizzly industrial produce some excellent power tools  and the Grizzly G1033X 20 inch 5 HP Spiral Cutterhead Planer would be no exception to this, only be aware of the cost of replacement parts. Replacing the spiral cutterhead with a Byrd cutter head would make this a better machine.
3.JET 708524 JPM-13CS molder planer Review 2017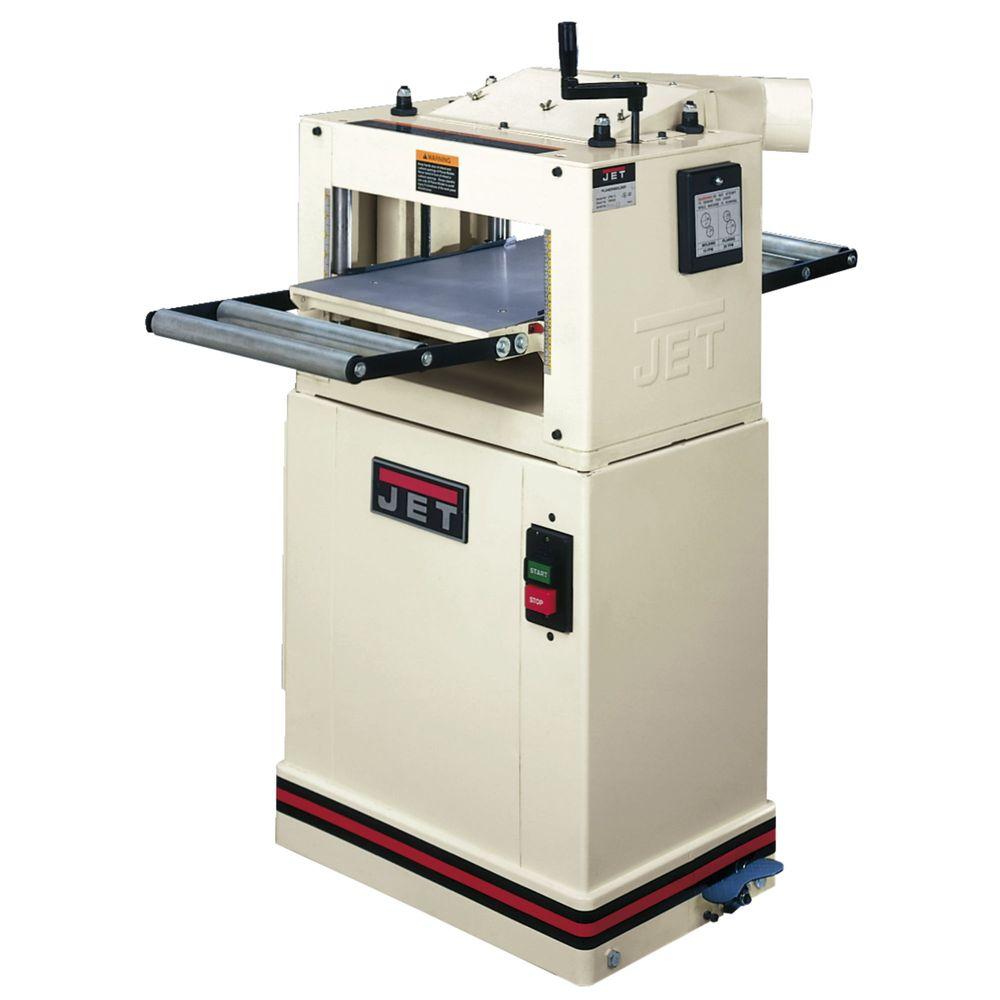 The JET 708524 JPM-13CS molder planer takes care of materials anywhere up to 13 inches in width and up to 6 inches tall. The tool's 1-1/2-horse-power, 110-volt motor (you can actually rewire it to 230 volts) will spin the three-knife cutterhead at 4500 RPM The two speeds allow the appliance to run at either 10 to 20 board feet each minute. The motor is fan-cooled and enclosed therefore it isn't going to get too hot and also stays protected against dust while the cast-iron infeed and outfeed tables add a good amount of heft and contact surface, and the rubberized in-feed and out-feed rollers support the work with out marking it.
As is normal with many planers, The JET 708524 JPM-13CS molder planer combination machine has an integrated dust chute making it a rather simple job to connect it to your dust collector which will help to not only keep your shop clean, but will also help to protect your lungs from the dangers of wood dust.
Four lockable casters (not standard) ensure that the JET 708524 JPM-13CS molder plane  is simple to steer in a wood shop that does not have a lot of room. For those operating in home repair, this device is a an outstanding tool to own. If you need to match new substitute molding with the present material, copy the profile of the existing molding, get custom knives made, and cut your own replacement molding that will match perfectly to the original moldings. A helpful video is included that walks you thru the operation of transforming and setting blades. This really is unquestionably a good tool, just the thing for home wood workers looking to step up from a benchtop unit, and particularly for re-modelers and those Old House reconditioning guys who need a good method to accurately match up with the current trim.
This JET 708524 JPM-13CS molder planer received 4 1/2 stars from the reviews that were left by owners, therefore I am quite happy to recommend these woodworking tools to anyone who is thinking of a precision molding cutter and planer.
One comment that a lot of the owners made was that a dust collecting system is practically essential for this unit to stop it from blocking up. But then a good dust collector is not just a luxury, they are essential power tools for any wood working shop.